WaveRFID
Your 10 minute inventory solution
At Wave RFID, we help optical professionals get control of their inventory, providing meaningful information in minutes, not hours or days, empowering them to save time and make decisions that create profits. The powerful tool we provide is RFID technology that allows 1000 frames to be scanned in less than 10 minutes.
Stop the Inventory Pain
10 Minute Inventory
Once upon a time in an office on Main Street an overworked and stressed optician prepared for a meeting with their frame sales rep. It took them hours to find all of the frames and create a detailed list of what was left. They could tell some of the frames were VERY OLD because the price tags had faded and had crispy edges, but how old? Was there time to calculate some turn rates so they could be sure to have the right number of board spaces? During the meeting they were presented with amazing styles that they hadn't had for months because they forgot to re-order them. They were reminded about the frames they returned during the last visit and wondered if they had received that credit. The message that kept running through their mind – "there has to be a better way!"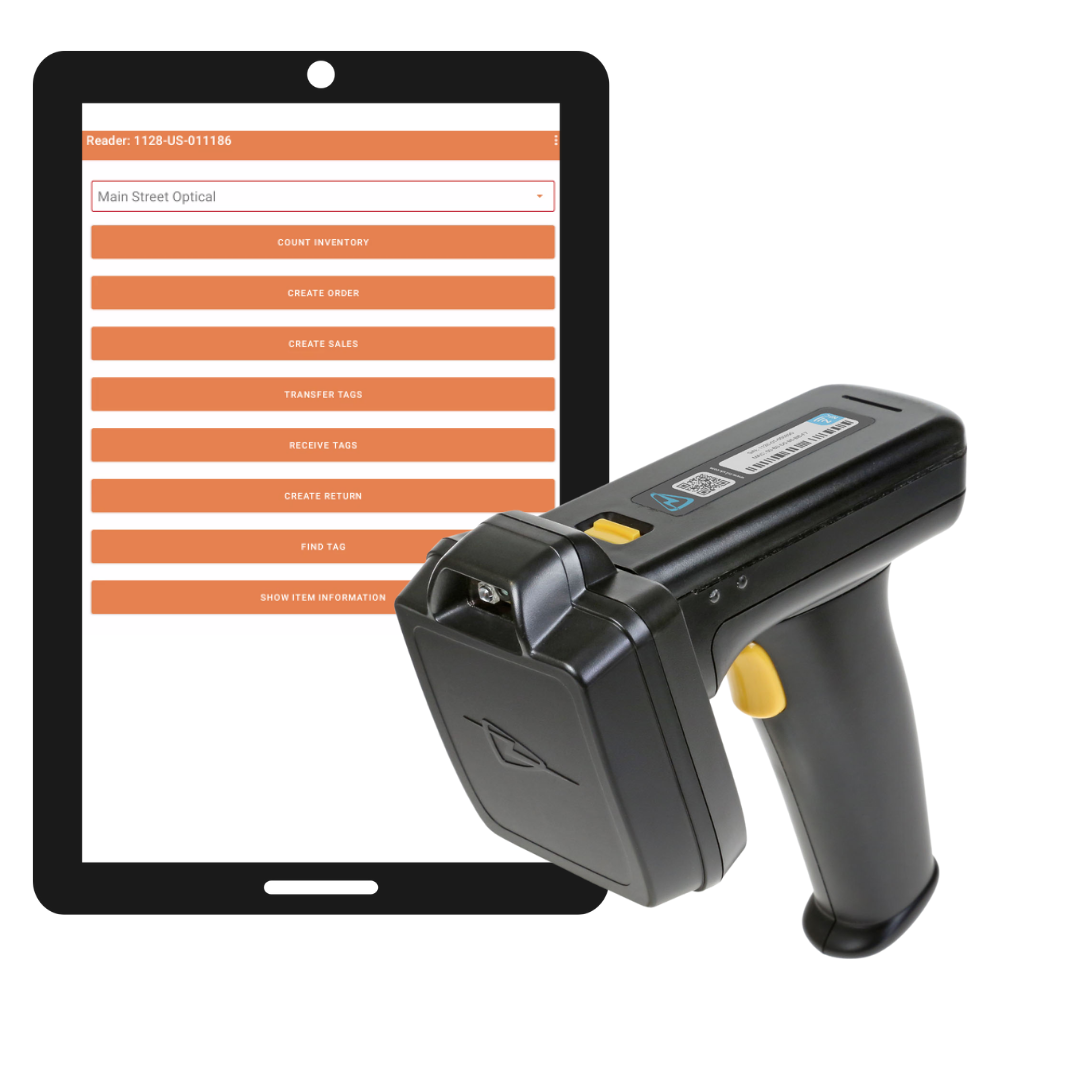 WaveRFID Can Help You Get Control

RFID Readers communicate with android applications to send tags

RFID enabled printers assign the unique tag number during printing

FIND MY TAG functionality locates missing items

Analysis identifies missing items and tracks shrinkage

Provides accountability when transferring items between locations

Supports barcodes and integration with other POS systems
Who is WaveRFID?
Inventory Management, Security and
E-Commerce Solutions  
Most businesses don't control and manage their inventory because it's too hard. It takes too long. There are too many processes that require manual steps and endless hours. We have simplified ordering, tagging, counting, returns and credit tracking.
RFID is short for Radio-Frequency Identification. It utilizes Tags, which are small electronic devices that consist of a chip and an antenna. The tags are read using a Reader that sends out a signal (via radio wave) that then bounces back and is sent to our software. Tags can be read at distances over 10 feet depending on the tag and strength of the reader.
Everyone shops online. Isn't it time for you to sell your products online? WaveRFID has created a simple solution that automatically updates your online store as your inventory changes. It removes the extra work and the burden helping you to capture sales that may have gone to an online competitor. 
Reduce Shrinkage
Inventory shrinkage (sometimes shortened to shrinkage or shrink) occurs when a retailer has fewer items in stock than what is represented on their financial balance sheet. This difference in the physical count and the expected inventory is the shrinkage. 
Talk With an Expert to Get Started Today!
What They're Saying
Customer Testimonials
WaveRFID has enabled us to compile accurate monthly profit and loss statements. We can now associate every frame sold and all items in stock to the original invoice and purchase price. 
WaveRFID has allowed us to do inventory quicker and more efficiently, keeping our inventory more accurate than it has ever been. The reporting within WaveRFID is extremely helpful with managing our frame boards. We can easily pull reports that accurately give us our turn rate so we can evaluate what changes we may need to make to our board spaces.
Wave has made my life easier by allowing me to quickly scan the inventory and easily pull a report on what didn't scan. I like that all the tags have the RFID chip so it is easy to locate a frame. I love how everything is simple and the system basically tells you what to do.
   Your First 30 Days are Free!
It's easy to get started. Ask us how!