WaveRFID
Your 10 minute inventory solution
At Wave RFID, we help optical professionals get control of their inventory, providing meaningful information in minutes, not hours or days, empowering them to save time and make decisions that create profits. The powerful tool we provide is RFID technology that allows 1000 frames to be scanned in less than 10 minutes.
Is This Your Stock Room?
This is an actual photo of a stock room that one of our WaveRFID clients sent us. It's so easy to get behind with all of the challenges we face in our "normal" work day. When the frames start to pile up then the processes and controls fall away. Opticians will hunt through the boxes to find what they need for the patient, but what happens to the inventory? The invoice in the box now no longer matches the content and what about the pricing, was it done correctly?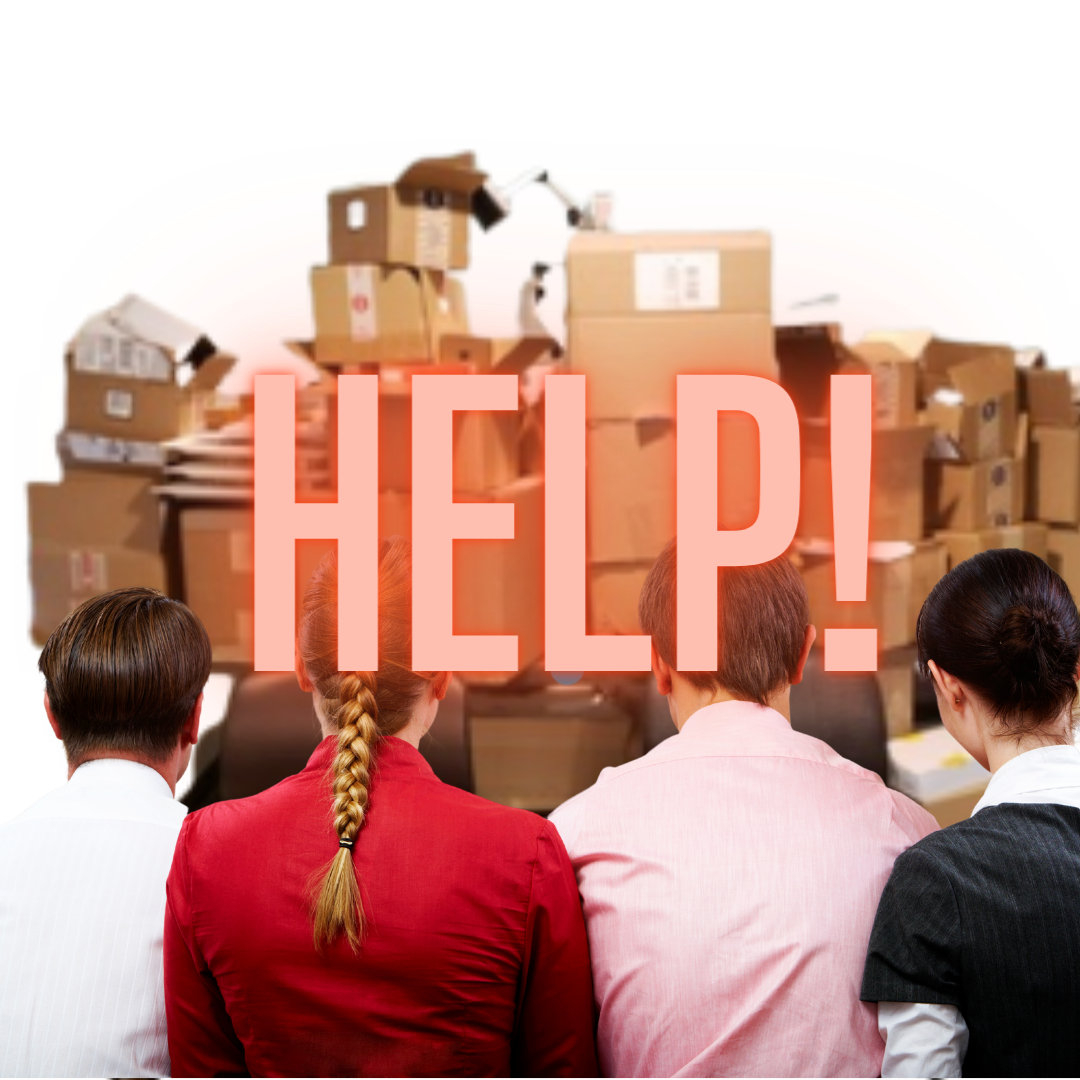 RFID Reader App
RFID Reader application scans hundreds of items in minutes simplifying the processes to count frames, transfer between locations and create vendor returns.
RFID Printer
RFID enabled printer assigns the unique tag number during printing and prints barcodes for easy integration with other software you use.

E-Orders
Send your orders electronically with one click to the vendor or your sales rep with detailed purchase orders including drop ship information.

Credit Tracking
Manages returns and ensures credits are received enabling reconciliation of your returns to your monthly statements. Your dashboard view reminds you of pending credits.

Workflow Manager
Workflow Manager automates how inventory moves between locations and labs. Rules create sales and transfers keeping inventory accurate and simplifying processes.

Auto Replenish
Automated Replenishment identifies items that need to be re-ordered for any location. The inventory manager has an opportunity to review before clicking one button to order.
Talk With an Expert to Get Started Today!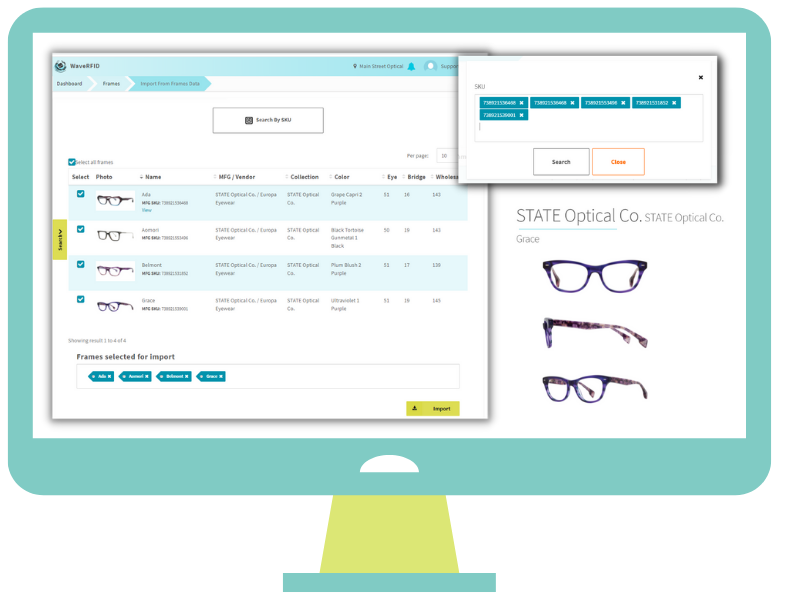 The WaveRFID team really went the extra mile to create an easy, feature-rich interface that also gives the business owner a lot of useful information from which to manage. Darla and Doug have so much experience in this area, and it really shows in how thoughtful the interface is.
Easy to use
Frames Data Integration
WaveRFID designed our integration to Frames Data so that it is alive and constantly updating information. Each client catalog is populated with missing data and updated to include the most current wholesale pricing and discontinued dates. This information is presented back to business owners in dashboard views in order to make critical and timely decisions regarding returns and price changes. 
Lookup and add new frames via barcode sku
Search by all frame attributes - color, shape, eye and more
Automated price calculations
Weekly updates for updated pricing and discontinued dates
Items can be added to an order during import to save steps
Images from Frames Data and client crowd-sourcing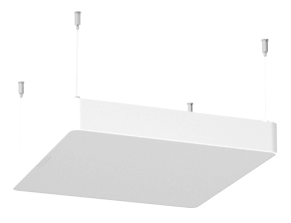 Security (Reduce Shrinkage)
Are frames walking out your door? WaveRFID security options can help. The small RFID tags  can trigger an alarm at a distance of up to 10 feet.  They can be read thru fabric but not thru a human body. The material of the tag is difficult to tear or remove. It is the same material used for baggage tags by the airlines. The security unit has a small profile and can be mounted above the exit door.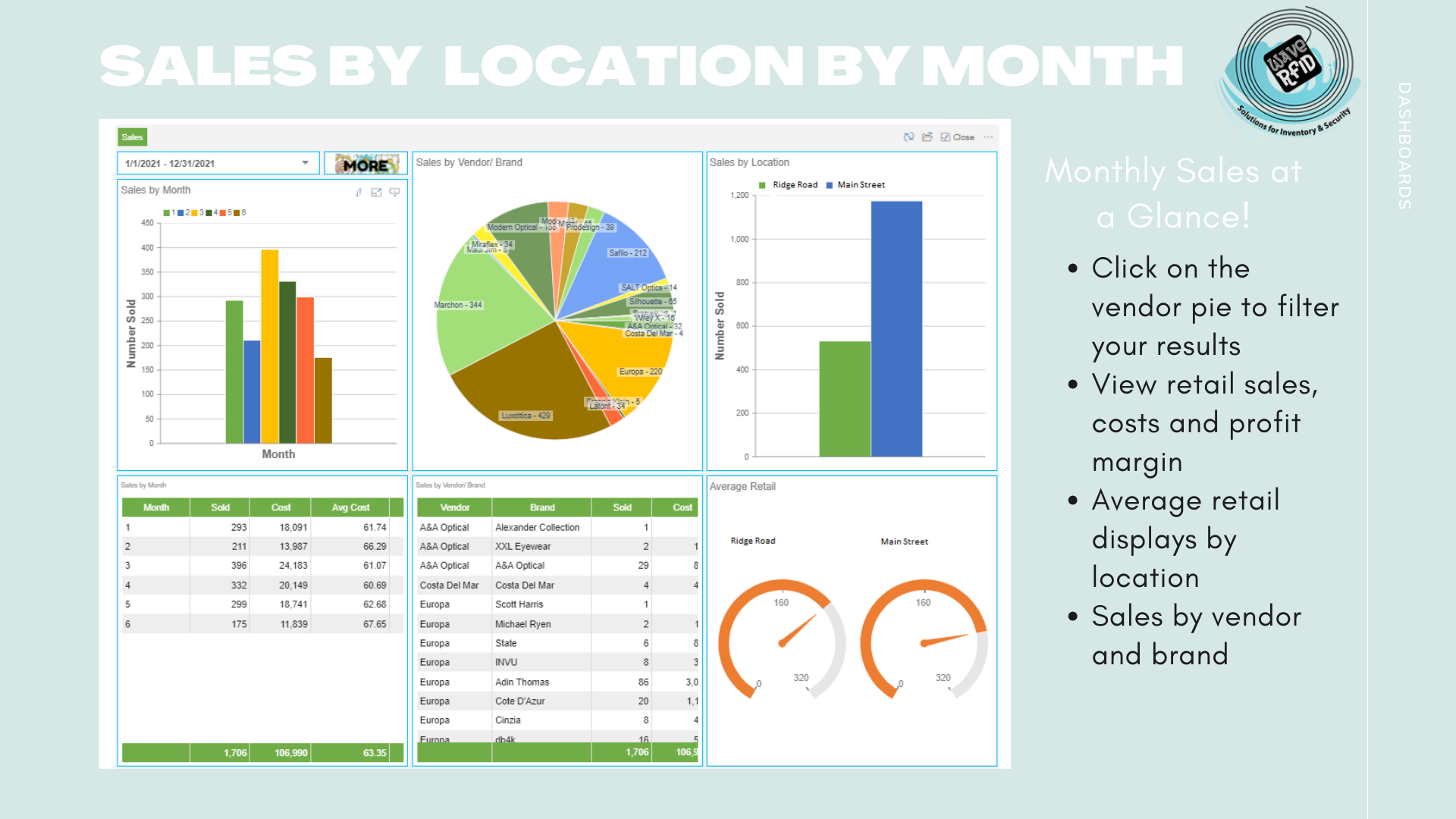 Data Provides Power to Make Decisions
Dashboards and Reporting
WaveRFID has 2 methods for analyzing your inventory. Interactive dashboards are available in seconds on-demand. They make it easy to drill down to the information you need. Inventory managers can easily evaluate late orders, missing credits and re-orders. Reports are available to track shrinkage, best sellers and turn rates. Knowledge is power!
Dashboards are interactive - click on a vendor to drill down
Comparative data by month and location
Best sellers, turn rates, discontinued, price changes + ++
Exports to Excel, PDF and CSV
Manager view - missing credits and backorders
   Your First 60 Days are Free!
It's easy to get started. Ask us how!